Our Spiritual Director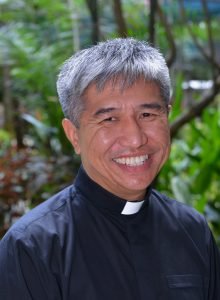 Rev. Fr. Adrian Danker, SJ
Fr. Adrian is a priest of the Catholic Church and a member of the Society of Jesus (Jesuits). He joined the Jesuits in 2001 and was ordained in June 2013.
An old boy of St. Joseph's Institution (SJI), Fr. Adrian was later appointed as its deputy principal in 2014 and is currently its principal. He holds a Ph.D. in English Literature, Masters in Philosophy and Masters in Divinity, as well as a Licentiate in Sacred Theology.
Appointed as Spiritual Director of Courage Singapore on 23 March 2017, Fr. Adrian takes time from his busy schedule to work with a group of people to build this ministry. As he ministers to our sisters and brothers, he desires that each heart be touched deeply by the Lord and that lives can be transformed.
"To be able to truly share the love of God with another, we have to really accept the other, including people with SSA, as he or she is – God's own, in spite of any imperfection and regardless of sexual orientation. We should aim to support one another in our struggles and accompany each other to live as Jesus did – loving God and loving neighbour. If we believe and profess that we are made in the image and likeness of God and that God is love – truly selfless love – there is then no other way to be Christian but to love as Jesus loves," he explains.
Read about his vocation story here.